My Profile
I am Maiko Kage Felton, a bead jewelry designer and instructor. When I was in the United States in 2001, I happened upon some beautiful bead magazines. Impressed by the beauty of the pieces profiled in the magazines I found beadwork very inspirational and I set out to master various beading techniques, and soon embarked on my journey as a jewelry designer. Now I live in Irvine, California.
My jewelry pieces tend to explore the interplay between symmetry and nature. I prefer to let my creativity flow freely; this allows the piece to seemingly define itself during its creation. I love sharing my jewelry interpretations of nature and life. Inspiring and exchanging ideas with others has always been one of my main objectives as a bead artist/designer. So many people, including family, friends, fellow artists and students have given me so much throughout the years, and I would like to respond in kind.
Beadwork is a very personal endeavor. It can also be a very solitary experience with very few opportunities for feedback, and punctuated with times of doubt and frustration. Sure, displaying one's work in a public forum can be frightening. But the sharing of one's work and ideas is necessary to give life and energy to that work.
I've published two beading books in Japan and conducted bead workshops in Japan and the United States, my tutorials appear in Bead & Button Magazine. I like participating in bead contests and have been a finalist in the Bead Dreams contests in 2005, 2006, 2007, 2008 and 2011. My beadworks have also won in the Bead Arts Award in 2005 and 2006.
My books 『Maiko's World Vol.1 &Vol.2』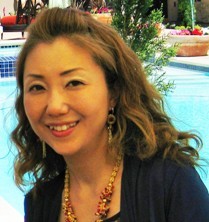 biography
1991~2000

After graduating college, worked for several companies. Gave a piano lessons as a part time job on weekends.

Nov. 2000
Go to America to study English
2001

Visit a bead shop in O.C., America Find " Bead & Button " at a book store in Santa Monica.  Begin to have interest in bead jewelry.  ( I was introduced to the off-loom technique at this time) Learn new techniques by myself. 

2003
Return to Japan 
July 2004

" Bracelet with Rose Alabaster " was featured in the Japanese magazine " Beads News 8 "

July 2004
"The Fan of Dancing (a necklace) was accepted for The Beads Grand Prix 2004 
Nov 2004

 Open an off-loom beadwork lesson.

Nov 2004

" Beaded Cabochon Necklace with Ruby, and Jingle Ring " which were featured in the Japanese magazine " Beads Friend Vol.5 "

May 2005
"Ice Crystals " Bead Necklace, Second Place, 2005 Bead Arts Awards Lapidary Journal and Step by Step Beads

June 2005

" Sweet Memories " Seed Bead Wearable, Finalist, Bead Dreams 2005 Bead and Button Show, Milwaukee, WI。 

Aug 2005
" Sweet Memories " was featured in the Bead and Button Magazine. (Oct, 2005/Issue 69)
Sept 2005
" Ice Crystals " was featured in the Lapidary Journal (Oct, 2005) and the Step by Step Beads.(Sept-Oct, 2005) in the American Magazine.
Oct 2005
"Ruffled Rondelles " was featured in the Bead and Button magazine. ( December 2005/ Issue 70, P88~90)
April 2006
Maiko's World Vol.1
May 2006
Bead & Button, The 2006 Bead Dreams Competition, Seed Bead Wearable Finalist, "Forget Me Not"
June 2006

Bead & Button  Aug 2006 Issue 74 "Peyote Stitch Chain Links"

June 2006
Lapidary Journal & Step by Step Beads, 2006 Bead Arts Awards Beaded Necklace, the second prize " FireWorks"
Oct 2006
Bead Bazaar in Kobe, Japan
April 2007

Workshop (Miracle Necklace) in Yokohama, Japan 

May 2007
Workshop Swarovski Japan at Tokyo Big sight in Tokyo, Japan
June 2007

 Bead & Button, The 2007 Bead Dreams Competition, Seed Bead Wearable Finalist "Rhapsody in Blue" and "White Gerbera Wedding"

January 2008

Isetan Shinjuku Tokyo, Japan,  Workshop (Wavelet Necklace)

April 2008
 Maiko's World Vol.2
April 2008
Takashimaya Matsuyama, Japan The 2008 Beads Grand Prix, Workshop (Sun Flower Pendant) 
June 2008
 Bead & Button The 2008 Bead Dreams Competition, Seed Bead Wearable Finalist "Cleopatra"
June 2008
 Isetan Shinjuku Tokyo, Japan  Beads Collection in Summer
Jan 2009
 Isetan Shinjuku Tokyo, Japan  Beads Collection
Feb 2009
Workshop in Milano(Milan) and Florence(Firenze), Italy.(MIYUKI CO.,LTD.)
Feb 2009
 Hankyu Umeda (Osaka), Japan, Workshop ( Happy Cross Pendant )
June 2009
 Isetan Shinjuku Tokyo, Japan  Beads Collection
Jan 2010
 Isetan Shinjuku Tokyo, Japan  Beads Collection
Aug 2010
 Move to Irvine, CA USA. 
Nov 2010

 Fire Mountain Gems and Beads, Swarovski Elements Jewelry Making contest 

・Necklace Category,  The Bronze Medal, 『Autumn Royalty』

June 2011

 Bead and Button  2011 Bead Dreams Contest

・Crystal Jewelry,  The Second Place, 『Ocean Royal』

2011

Fire Mountain Gems and Beads,  Swarovski Elements Jewelry Making contest

・Necklace Category  『Winter Star Light』The Bronze Medal

Feb. 2012

Fire Mountain Gems and Beads, Gemstones Jewelry making contest

・Necklace category, Finalist,『Granada Grace』

 2012

Fire Mountain Gems and Beads, Swarovski Elements Jewelry Making contest

・Earrings,  The Gold Medal, 『Little Mermaid』

 April 2016
 Hankyu Umeda (Osaka), Japan, Couture Jewelry Show ~Sacred Forest~ Workshop (Spring Moon Light)
2016
Fire Mountain Gems and Beads, Swarovski Elements Jewelry Making contest ・Contest Jewelry Design Set, The Bronze Medal, 『Antique Autumn』